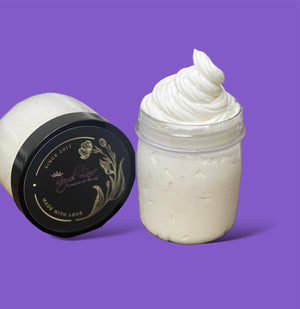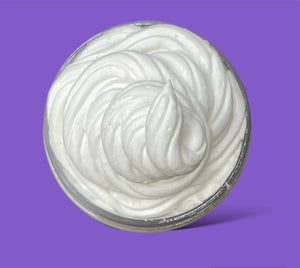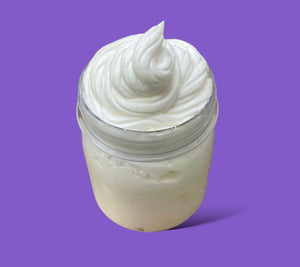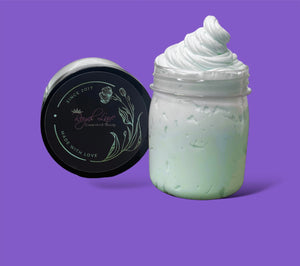 Cashmere Body Cream
A body cream formulated with shea butter and coconut oil can offer several benefits for your skin. Both shea butter and coconut oil are popular natural ingredients known for their moisturizing and nourishing properties.
Deep Moisturization: Shea butter is rich in fatty acids and vitamins, which make it an excellent moisturizer. It forms a barrier on the skin's surface, preventing moisture loss and keeping the skin hydrated. Coconut oil is also a great natural moisturizer that helps seal in moisture.

Skin Softening: Both shea butter and coconut oil have emollient properties that help soften rough or dry skin. Regular use of a cream containing these ingredients can lead to smoother and softer skin over time.

Nourishing and Repairing: Shea butter is known for its healing properties. It contains antioxidants, such as vitamins A and E, which can help repair and rejuvenate the skin. Coconut oil contains lauric acid, which has antimicrobial properties that can contribute to healthier skin.

Reducing Inflammation: Shea butter and coconut oil both have anti-inflammatory properties that can help soothe irritated skin, making the cream potentially beneficial for conditions like eczema and psoriasis.

Anti-Aging: The vitamins, antioxidants, and fatty acids in these ingredients can help reduce the appearance of fine lines and wrinkles, promoting a more youthful complexion.

Gentle on Skin: Shea butter and coconut oil are generally well-tolerated by most skin types, including sensitive skin. However, as with any skincare product, it's a good idea to do a patch test before applying the cream all over your body to ensure you don't have any adverse reactions.


Remember that individual results may vary, and it's important to be consistent with your skincare routine for the best results. If you have specific skin concerns or conditions, it's a good idea to consult with a dermatologist before introducing new products into your skincare regimen.